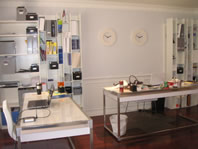 ARIBSAN US
has its registered business address at:

ARIBSAN US forms a part of the ARIBSAN group, which carries out the registration and supervision of the allocation of the ISAN code to audiovisual works and recordings. The group is also responsible for the promotion and dissemination of ISAN among Spanish and Latin American producers, distributors and broadcasting companies, as well as the many different representatives of the film and audiovisual industry. The establishment of this new agency extends these management activities to the United States.
ARIBSAN US submitted its Expression of Interest to cover the American market on July 12, 2011, and was subsequently appointed by ISAN International Agency as an ISAN Registration Agency for this purpose.
The official opening of the agency took place during the 2011 American Film Market and this was attended by many representatives of American audiovisual production companies, studios and the MPAA in particular.
ARIBSAN US has been set up within the structure of ARIBSAN, sharing its resources, in order to reduce costs and is thus in a position to offer significant reductions in fees to studios and other clients.
The basic objectives of ARIBSAN US are:
•
To offer technical and operational solutions through Web Services, standard registration procedures, etc.
•
To promote and disseminate the ISAN code on all levels to raise awareness among the various participants of the audiovisual distribution chain in the United States.
•
To offer volume discounts to clients in order to facilitate the allocation of ISAN codes.
For further information and news about our activities, please see: news